West Seattle Golf Course Blog
History of the West Seattle Golf Course
Click here to write a review of West Seattle Golf Course
It's impossible to understand the history of the West Seattle Golf Course without a clear understanding of its architect Henry Chandler Egan, known more commonly as just Chandler. Born in Chicago, Egan was a Harvard graduate who lead his team to the NCAA National Championships in 1902, 1903 and 1904. The 1904 title was the last team title won by Harvard. And in 1902, during the run to the team title Egan won the NCAA Individual championship, proudly recalled to this day on the Harvard golf team website.
Egan's golf career didn't end after Harvard. He played in the 1904 Olympic Games winning a Silver Medal individually as the U.S. team took home the Gold Medal. He won 2 U.S. Amateur titles, 4 Western Amateurs, played on 2 Walker Cup teams and also participated in 2 U.S. Opens and the 1935 Masters (won by Gene Sarazen after his double eagle at 15) at the age of 50. Unfortunately he wasn't in the picture below of the 1935 Masters field, but Egan was able to shoot 77, 78, 78, 81 for a total of 314.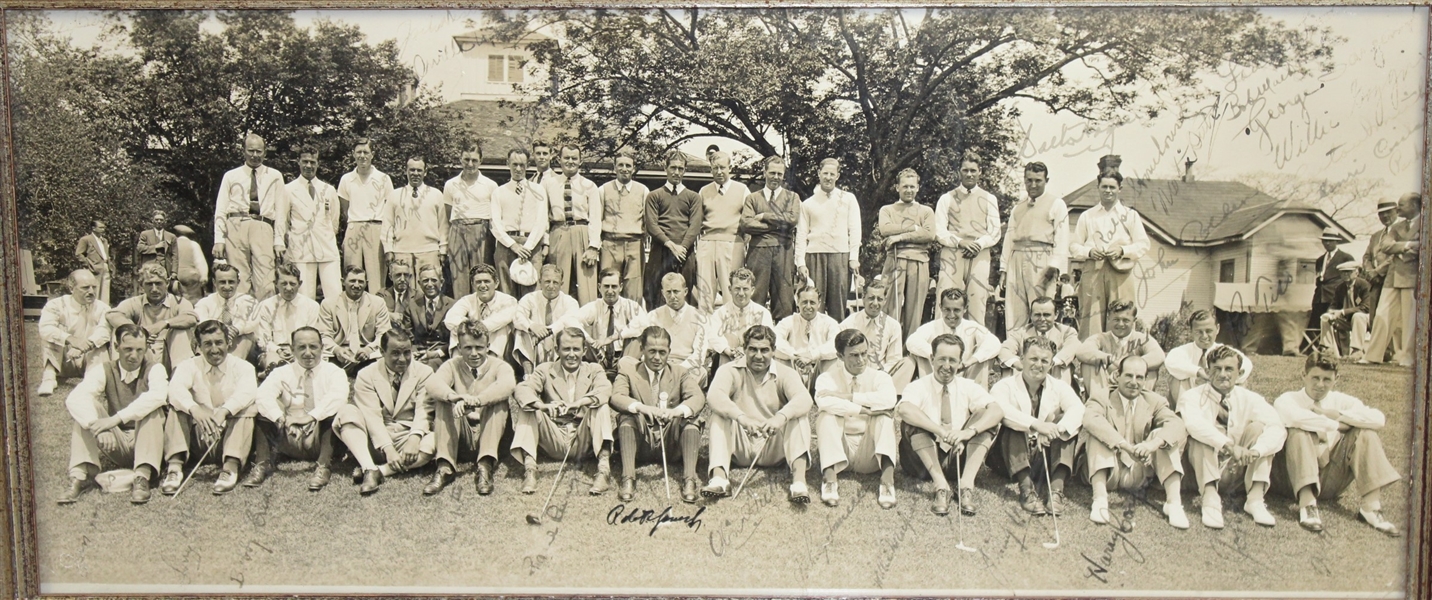 As his stellar golf career started to wind down, Egan spent much of the remainder of his life designing golf courses, primarily in the Pacific Northwest. However his work occasionally brought him to California, where one of his projects was to work on Pebble Beach alongside the famed Alister MacKenzie. His life ended at the relatively young age of 51 after a battle with pneumonia, and although he designed the West Seattle Golf Course, his untimely death prevented him from seeing the course open in May 1940.
West Seattle Golf Course continues to be a local favorite to this day, and is one of the 3 courses that host the annual Seattle Amateur championship. Famed teacher Jim McLean, a Washington State Junior Champion, grew up on the course and the USGA has held championships and qualifiers here over the years.
This Par 72 course features a slope of 125 from the black tees which play at 6805 yards. But there are six sets of tees to accommodate players of all abilities. Reading the numerous online reviews for this course there are many common threads regarding the beauty and scenery of the golf course, especially the views of downtown Seattle which is a feature mentioned over and over. The comments are consistent. This is clearly a terrific municipal golf course that offers a sturdy challenge and a wonderful playing experience. There are many who consider it the best course in the city.
Do you play at West Seattle Golf Course? We'd love to share your thoughts with other players visiting our website. Please write a review.
---